TRANSMISSION 33 (aka Replikant)
by jamika ajalon

Issue 10: Afrofuturism
transmission from the Sonic Resisters, voice unknown
 
What i am is  fugitive
living among you,
simultaneously, in a parallel
light-years away,
in the resonance;
through the  marimba portals
past the milky ways tapped
by Sun Ra sonics,
and from which 'Trane got
his ephemeral on in the attic.
Just go ask Alice.
The portals, that the
Billy, Bessie, and Rainy Trinity
maintain in concert with other
sound keepers,  from pulse to cacophony.
i am not  "I"  but WE,
a vocal that remembers and sees,
designed to reawaken frequencies
of a timeline from before before before,
where music is free.
This is a transmission for all ready
to dedicate heart to the art
of re-memory,  carried as a tree
carries memory rings.  All that
i am about to tell,
you are already knowing.
Sound once made
doesn't disappear
but resonates.
resonance resound us.
resonance resound us.
Listen deep.
A love supreme as
road map and diviner to
Jimmi's machine gun
still reverberating , aboard
Fela's horn trance-portation, to
Billy's  strange fruit  blowing through
inter-zonal foliage.
Hear it in the chain gang,
hear it in your marrow because
their song is yours.  Re-remember,
listen deeper.  Re-remember,
as sample crack in the blue-
see Marley make two opposing
but equally brutal majoriborg mono-bots
clasp hands.  Tune into lightening
frequencies before the thunder struck and
at once like water, the sonic alters
perception,  empowers,
as bullet,  as balm,  as awakener,
peels away illusion until all
that is connected reveals itself.
Remember?  All that they sell as
never was IS.  All time is now.
The rhythm is salvation,  tempos
shifting with pulse harmonic fractals,
layered into smooth streams continuing.
Re-remember  music still free as
free as an idea,  as transformative,
loosening  the bolts (free your mind),
the music is ours
as ever and never it was,
giving voice  to the impossible IS,
from the resonance.
Even in the age of music as Replikant
there is beauty.  Listen to what lies beyond
in between the lines
Resonance,  resound us.
Transmission out—until the next,
peace and soundz.
"Replikant" is a prose poetic piece, part of the soon to be released Dream Pop Dysphoria album by Reverse Bullets, set in the year 3666 when music and sound is censored almost to the point of abolition in less privileged parts of the world. Instruments, musical education, and access to "ancient" music is limited to a class of chosen elite who horde and bury the knowledge of the past.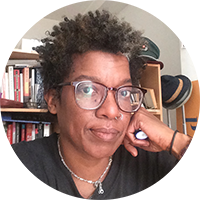 jamika ajalon
American, author/wordist and interdisciplinary artist jamika ajalon works with different mediums independently, but also in multiple fusions—incorporating written and spoken text, sound, music, and visuals. Her poems, stories, and essays have been published in various digital and print publications internationally, including Paris Lit Up magazine and We Travel the Space Ways (an anthology on afro-futurist art, thought, and activism). She is a producer/editor/host of Circuit Gaze podcast, was guest columnist for Itchy Silk magazine ("queer plume: the fugitive diaries"), co-conspirator at lpressl.com, and guest lecturer and performer with Apples & Snakes in London, the Vienna Arts Academy, the American University of Paris, and Hampshire College. jamika is also a vocalist, writer, and musician with Jamika & the Argonauts/Zenzile and has performed audio-visual anti lectures and exhibited widely, including at Les Ateliers de Rennes – Biennale of Contemporary Art (2018), the DISTURBANCE exhibition at Kunsthalle der Sparkasse Leipzig (2017), and Bétonsalon in Paris (2017). She has a BA in Film and Video, and an MA in Communications in Culture and Society from Goldsmiths, University of London. Her new videos available on YouTube. Her poetry book Take Back the Narrative is now available for public consumption. For more check http://www.jamikaajalon.com/about.