Angelica Navarro
Angelica Navarro is a self-taught digital artist who dabbles in horror and comics. Using vibrant colors and an eye for detail, Angelica creates illustrations that explore her relationship with body horror and self-reflection. By depicting graphic themes through means of abstract expression, she hopes to one day write and draw her own graphic novels. Until then, Angelica toils away on her tablet making creatures of all kinds of shapes and sizes with grotesque backstories. Find her on Twitter @cabezadealteza.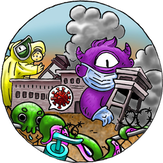 A.B.O. Comix
ART BY PRISONERS * SUPPORT FOR PRISONERS * PROFITS TO PRISONERS
A.B.O. Comix is a collective of creators and activists who work closely with prison abolitionist and queer advocacy organizations to amplify the voices of LGBTQ prisoners through art. All art accompanying the fiction and poetry of this issue are contributions of artists affiliated with A.B.O. Learn more at https://www.abocomix.com/.
Artist bios can be found below. 
Title & artist, listed in order of appearance
Peace of Night by Michael Eaton
transgender Art by Sophia LaFerriere
When Birds Rule the World by Max Moore
Abstract Character by Willy
Tarot Card by Kinoko
Abstract Wood Burning by Coco
Michael Eaton
Michael is a regular contributor to A.B.O. Comix and is based in Texas.
Sophia LaFerriere
Sophia is a transgender artist based in Washington state.
Max Moore
Max is an A.B.O. Comix contributor based in California.
Willy
Willy is an A.B.O. Comix contributor based in Texas. Through art, Willy has found community and expression.
Kinoko
How I identify: I am currently exploring my finer qualities through my art. Gender fluidity calls to me, as some masculine and many feminine qualities coexist in peace and synchronicity—most days. 
Identity as an Artist: I feel the compliments and attention I receive are flukes. I use art to explore myself and share what I find.
Influences: Mort Drucker, Basil Wolverton, Moebius, Bill Watterson.
Motivations: Reconciling a horrible past with the beauty, love, and acceptance I've found within the LGBTQIA community. 
Gabriella "Coco" Wyatt
Coco is a transgender (MtF) comic artist who has been incarcerated for twenty-one years, serving life without parole. At a young age Coco became a huge fan of comics after catching a rerun of the '60s Batman TV series, which influenced her to create her own comics. After discovering the Underground comix, her work became more realistic and personal. She realized that comics can do way more than showcase superheroes battling. She believes comics can even be a means of cultural dialogue and transformation. In 2017, she joined the A.B.O. Comix family, and they have been publishing her autobiography prison comic Shades of Grey annually. In 2021, amidst the COVID-19 pandemic, A.B.O. Comix even published her first collection of comix, Any Way But Straight. She hopes to publish many, many more books with her comix family.