Layering Ghosts with Suzan Palumbo, Dark Fantasy and Horror Writer
Issue 13: QTPOC | 1,770
words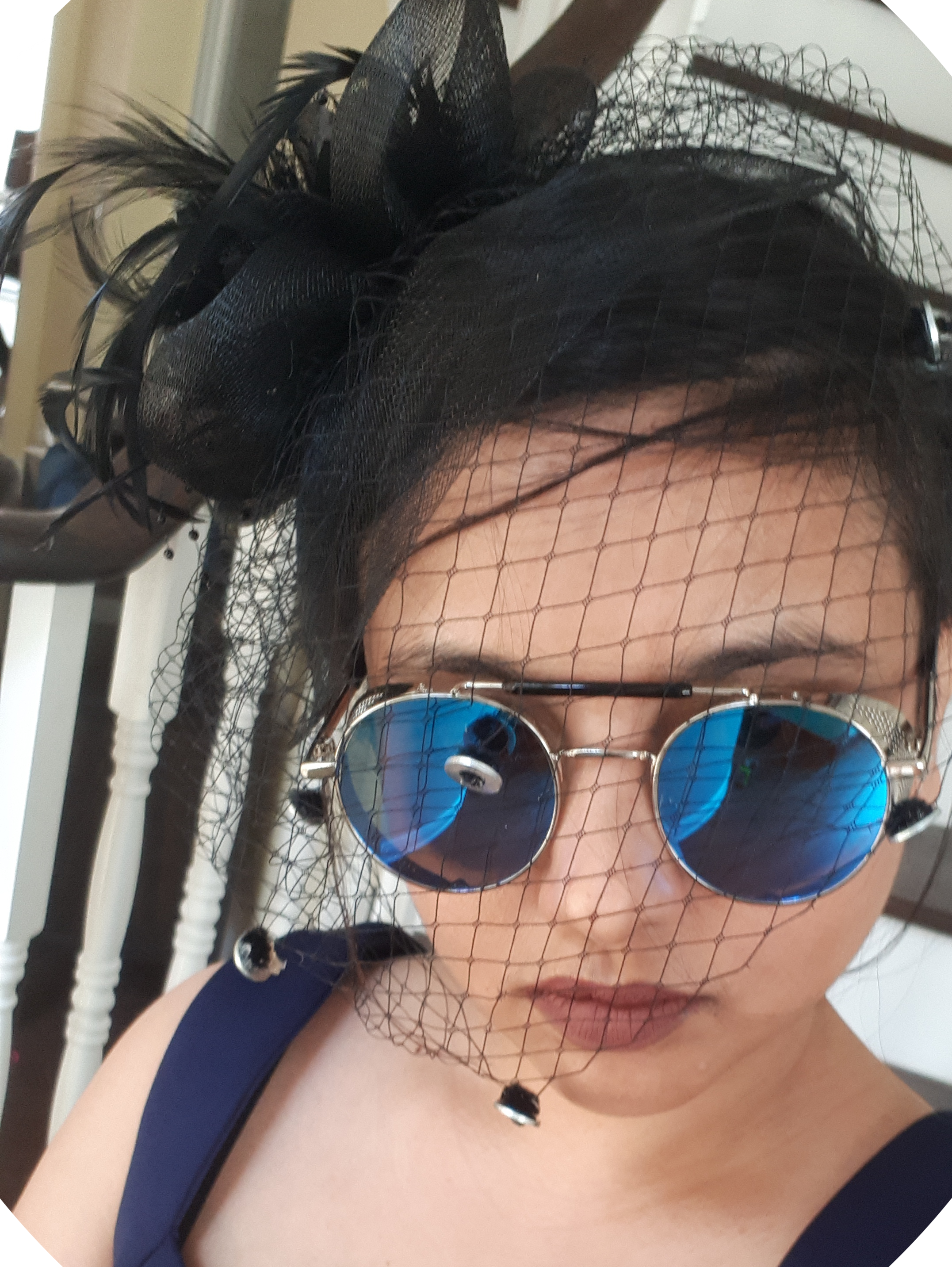 Suzan Palumbo is a Nebula finalist, active member of the Horror Writers Association (HWA), co-administrator of the Ignyte Awards, and member of the Hugo nominated FIYAHCON team. Her debut dark fantasy/horror short story collection Skin Thief: Stories will be published by Neon Hemlock in fall 2023. She will also co-edit a special Caribbean issue of Strange Horizons with Marika Bailey in 2023. Her work has been published or is forthcoming in Lightspeed, Fantasy Magazine, The Deadlands, The Dark, Pseudopod, Fireside Quarterly, PodCastle, Anathema: Spec from the Margins, and other venues. Her work reflects her queerness, Trinidadian roots, love of nature, and all things gothic. She is officially represented by Michael Curry of the Donald Maass Literary Agency and Tweets @sillysyntax. 
——————–
LP Kindred: I love this interview series because I get to talk to some of my coolest and quirkiest friends about their work. Which brings us to you. I appreciate you so much for coming and sitting still for this interview. I know you're busy. 
Suzan: I appreciate you having me! I'm never too busy for you or to support magazines that care about queer BIPOC writers and editors. 
LP: You're an Indo-Trinidadian sapphic in Canada. There's a lot of cultural context there. How do your particular intersections of identity affect the way you both create and consume fiction in the field? How does your identity inform your writing?
Suzan: Being a brown, queer woman born in the Caribbean permeates every aspect of my life and writing. Growing up, I never felt like I fit anywhere completely or that I belonged to one place or culture or people wholly. I often felt pressured to downplay aspects of who I am in order to be a part of different social groups. Now that I think about it, it was almost like code-switching my identity. As an example: at home, I can be loudly Trinidadian. In the past, at work or at university where I was one of a few people of color in my program, I couldn't be loudly Trinidadian. In SFFH writing spaces, I can be openly gay. I can't be openly gay at home with my family. Because of this, I tend to produce a lot of work about queer women negotiating their identity or evolving and transforming into either more fragmented or more cohesive versions of themselves. I'm drawn to narratives that center characters who experience a disconnection with who they are internally and how they must present themselves outwardly. I find that tension fascinating and richly horrific. This is most likely why I consume a lot of horror generally. 
LP: Your short story "Of Claw and Bone" starts with
Your mother begins collecting the tiny skulls as soon as the flutter of your limbs causes her heart to skip. She curates each specimen, ensuring it originates from a disparate source: A mouse carcass picked from a ravine trail; a desiccated red squirrel shipped from her sister out East; a marmot, snared in a field three hours from the village.
I'm amazed by your ability to generate creepy atmosphere and dance with the horrific. What is it about this particular range of speculative fiction that magnetizes you? 
Suzan: Thank you! I'm happy my creepy is working. Horror has always been a mechanism I've used to internally reconcile who I am with my place in the world. I don't think I've always used it this way consciously, but as a writer it's partly been about looking inward and confronting darkness within myself. It's been about grappling with fear, dread and shame, which are feelings I've been closely acquainted with for a long time, and trying to process them through stories.
At the same time, it's served as a way to reclaim agency for myself. I watched a lot of classic horror movies with my mother when I was a child. I also read a ton of Gothic horror as an early teen. Without fail, I saw myself in the villains, monsters, and creatures who terrified everyone. As you mentioned, I'm part of several demographics that have been historically labeled monstrous, contagious, and undesirable. I am the brown, immigrant woman with mental illness who is attracted to other women. I am the assault on the white picket-fenced neighborhood and the status quo according to certain people. Am I a monster? I suppose it depends on who you ask and your definition of a monster. Do I personally mind being a monster? No, not when the monster in fiction can represent or reflect how horrific and oppressive the status quo currently is. Horror, especially Gothic horror, is the genre that most closely represents my lived experiences.
LP: How do you describe your work?
Suzan: Gothic. Personal. Biographical. Sad. Enraged. Lonely. Not docile. Grief stricken and yet hopeful because even if the character doesn't survive the story, I did and the reader will, too. 
LP: You're nominated for a Nebula Award for your story of generational trauma and the scars left by deep loss, "Laughter Among the Trees"! That's so damned exciting, I'm so proud of you, and the story is killer! Congratulations! How does that feel? Where did that story come from?
Suzan: Writing this answer made me tear up a bit. I was and am thrilled and appreciative and so very grateful. It's surreal. I never expected to be nominated for a Nebula. How many times have I heard, "I don't connect with your voice" throughout the years? And here we are. People can connect with queer, BIPOC experiences. It makes me want to tell people not to give up! It can happen! Gosh, that happened?!? I checked again and I didn't imagine it! IT HAPPENED!
"Laughter Among the Trees" is biographical in terms of the protagonist's background and identity. I had very similar experiences as a very young child and, as a result, a lot of the feelings in the story are based on emotions I've had. Those were hard to write because it involved being honest about jealousy, envy, attraction, and anger. These are things people generally don't admit they feel. I was worried that centering this kind of personal darkness would turn readers off, but on the whole, they've gotten Ana and why she feels the way she does. I'm pleased by this. I didn't want to write a character who was wholly good and who never had an unkind thought. I wanted to write about a realistic girl and woman who is very far from the ideal person everyone wants her to be. 
The spark for the premise came from reading "The Stories We Tell About Ghosts," by A.C. Wise in The Dark magazine. I was struck by the sibling relationship in that story. In it, the main character has a lot of guilt and resentment towards his little brother. I haven't read a lot of short stories that deal with those feelings, and I wanted to tackle those heavy emotions myself. 
Finally, I wanted to explore how being part of a diaspora often feels like being haunted. Ana's family has many ghosts: Sabrina, Greg, the country they left behind, the dreams of the life they wanted to build. Immigrant stories are often ghost stories, and I thought layering ghosts would be a good way to illustrate that.
LP: When you think of your literary peers, who are the folks whose writing you want your work read alongside? Give me stories, give me novellas, give me novels. What have I missed?
Suzan: What have you missed? I'm not sure! But I will tell you what I've been into in terms of BIPOC work. I shout the praises of H. Pueyo everywhere. Her story, "A Study in Ugliness," in The Dark magazine was easily one of my top five favorite stories last year. I'm loving the horror written by Brazilian writers generally. Ian Muneshwar's "Dick Pig" in Nightmare magazine is, in my opinion, a must read. I am currently reading Paula D. Ashe's short story collection We Are Here To Hurt Each Other. Whew. It is scary and unflinching. I'm looking forward to Rhonda J. Garcia's collection Hell Hath No Sorrow like a Woman Haunted. I am about to dive into The Chosen and the Beautiful by Nghi Vo. Vo's novella, Empress of Salt and Fortune is probably my favorite novella ever. Having my work read alongside or in conversation with her work would be #WriterGoals for me!
LP: You're the awards administrator for the Ignyte Awards at FIYAHCON. It's been so cool watching BIPOC creators name Ignytes as #WriterGoals alongside the Hugos and Nebulas. How do you feel about the Ignytes as we approach year three?
Suzan: Yes! I co-administer the Ignyte Awards with L.D. Lewis who is phenomenal. The Ignyte awards are very dear to me. They are my baby, so I guess L.D. and I are co-parents. And the award series is three years old, so we have a preschooler now. It's been deeply fulfilling to watch them grow from an idea in response to a lack of respect and care for BIPOC writers to #WriterGoals. 
Going into year three and thinking about next year, I hope that the SFFH community sees the Ignytes as an award series that is respectful, aware, and ever evolving. I want the awards to continue to grow and highlight incredible work that doesn't get recognized in other spaces. I like that you often see nominees on the Ignyte ballot that you haven't seen on others. BIPOC SFFH creators are producing some of the most groundbreaking, innovative, intelligent, heartfelt, and uncompromising work in our field. People are putting in the time to help build community and improve access. They deserve to be seen and celebrated. Joy is part of the core of the Ignyte awards, and I hope that joy continues to be a bright light for everyone.
LP: Last, if you were to write a story for this QTPOC-led issue of Speculative City, what would the story be about?
Suzan: This is a fun question because it's hypothetical! I can make it about anything I want regardless of my skills. I'm not going to talk about characters or premise or craft. If I were to write a story for the QTPOC-led issue of Speculative City, I'd write a story for the QTPOC readers that made them feel seen. A story that lets them know their own stories and histories, and lives, and loves, and frustrations matter. I'd try to make them laugh!
LP: I love that and I love you. Thank you for answering a few questions today. 
Suzan: Thank you for having me. I love you, too!